If you like this recipe come back on www.happystove.com and rate it!
Choux Pastry Dough - Recipe
Choux Pastry Dough is a light dough that is used to prepare sweet treats such as cream puffs or profiteroles, croquembouche and eclairs. With its delicate flavor, the Choux pastry dough can be also used with savory fillings for delicious appetizers.
Stats:
Preparation time:

30 minutes
Cooking Directions: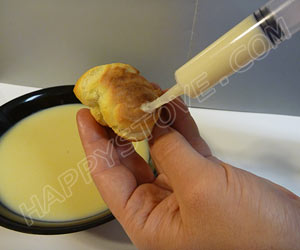 Choux dough is cooked twice, in two separate steps. In the first step, the dough is cooked on the stove top while in the second final step the dough is usually baked in the oven or fried.
First Step: Preparing and Cooking the Choux Dough On The Stove Top
In a pot, bring to boil the water with the butter in pieces, the sugar and a pinch of salt.
When the water starts to boil, remove from the heat.
Sift in the hot water the flour, stirring vigorously to avoid formation of lumps.
Reheat again, this time at low heat. Stir continuously until you obtain a smooth and creamy dough that will start detaching from the pot walls.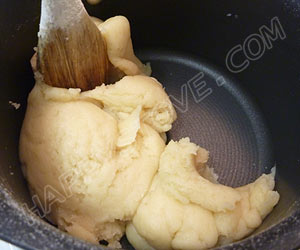 The dough is ready when it starts attaching to the bottom of the pan. Remove from heat and let cool completely.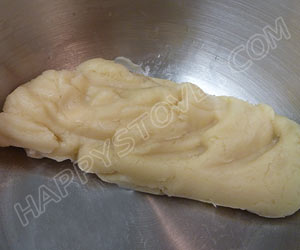 When the dough is completely cooled down, mix using an electric mixer with the 4 eggs, added one by one. Don't add another egg if the previous one has not been completely and homogeneously incorporated in the dough.
Second Step: Baking the Choux Dough in the Oven
Below is shown how to prepare simple Choux dough pastries by baking it in the oven. Many classic recipes such as the one to prepare Beignets require to fry the Choux dough Instead.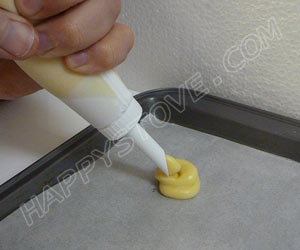 With the use of a pastry bag (piping bag) with a 14mm round tip, lay some of the choux dough on a baking tray, greased or covered with baking sheets. For profiteroles, pipe the dough in rounds a little larger than a quarter. For eclairs, pipe about 3-4 inches long strips of dough on the baking tray.
Keep the choux dough rounds or strips far away enough to not touch while rising in the oven.
Place the baking tray in the oven, preheated at 430F. Bake for 15 minutes. Don't open the oven, to avoid spoiling the rise of profiteroles or eclairs.
Reduce the temperature in the oven to 375F and keep baking for additional 10 minutes.
After the 10 minutes have passed, turn off the oven and open partially the door to let the baked pastries to cool down slowly. This will help to keep your Choux popped.
When the puffs are cool, you can fill them with cream custard, Chantilly or whipped cream or with salty sauces such as flavored bechamel.
Choux Pastry Dough is tagged as: