If you like this content come back on www.happystove.com and rate it!
Varieties of Peppers
Do you know how to choose the right hot pepper for your recipe? How spicy do you dare your meals? This article tries to explain the basics on peppers.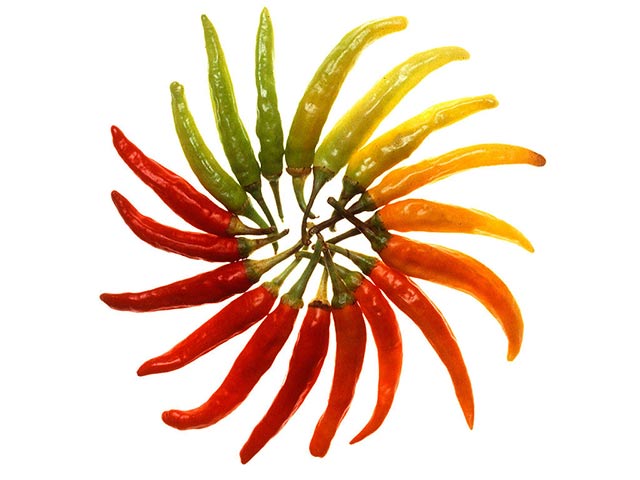 Most of the spicy flavor of the peppers is located in the seeds and the inner membrane. Removing those will easy up their effect.
Below are presented some peppers from the mildest to the hottest.
Red Yellow and Green Sweet Bell Peppers
Roast in the oven at 450 degree. Flip them until charred on both sides. Let cool, peel and strips out the seeds and membrane before using them for your salad and vegetable dishes. Instead of roasting the peppers you can broil them.
Guajillo Peppers
A mild brown/red pepper with a long shape and a smooth skin.
Poblano peppers
With its rich taste and medium-hot flavor Poblano peppers are perfect for your stews
Anaheim Peppers (Green Chillies)
Long green chili with the pointed tip and a mild flavor.
New Mexico Peppers
With its mild to medium hot flavor it is perfect dried or grounded as chili powder.
Ancho Peppers (dried Poblano pepper)
Almost black and wrinkled with a slightly hot taste.
Banana Peppers
Perfect for salads or pickled this yellow chili are mild flavored.
Pasilla Peppers
Very hot Pasilla peppers are very dark with a long wrinkled and slender shape.
Jalapeno Peppers
Jalapeno Peppers are very hot and usually used canned or pickled.
Chipotle Peppers
Chipotle peppers are dried and smoked Jalapenos. Used in the Adobo sauce or canned.
Red finger Peppers
Very hot variety of slender red pepper. The name Red fingers derives from their length.
Serrano Peppers
Hot peppers (especially the seeds) with a bright green color and a smooth skin.
Habanero Peppers
The hottest peppers are ruffled plump and small.
To easy up the effect of the pepper the best remedy is a diary product like milk or cheese.
See also the related article about The Scoville Scale ↪